Welcome to the Academy at Middle Fork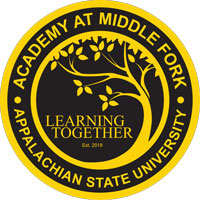 The Appalachian State University Academy at Middle Fork is a free, public lab school serving grades K-5.
Located in Walkertown, North Carolina, the Academy at Middle Fork is a partnership of Appalachian State University and Winston-Salem/Forsyth County Schools (WS/FCS). Any elementary-aged student who lives in Forsyth County, North Carolina is eligible to attend the Academy at Middle Fork. WS/FCS also operates a Pre-Kindergarten program within the school building.
Why the Academy at Middle Fork is the right school for your child
The Academy at Middle Fork provides a balanced education and so much more!
"We don't call them just students, we call them scholars. And so, by saying that they are scholars, that pushes them to say, "I am great, I am capable of learning, I can do this." — Monique Johnson, Fifth Grade Teacher
Academy at Middle Fork students and teachers learn together through an integrated curriculum with flexible instruction. Curiosity is encouraged and student success is prioritized, and shared ownership of behavioral expectations results in a calm, happy environment.