Academy at Middle Fork is Operating under a Hybrid Model. Visit Our Safe Return to learn more.
Welcome to the Academy at Middle Fork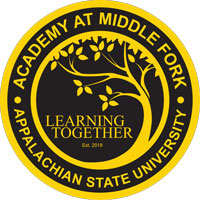 The Appalachian State University Academy at Middle Fork is a tuition-free, public lab school serving grades K-5. Located in Walkertown, North Carolina, the Academy is a partnership of Appalachian State University and Winston-Salem/Forsyth County Schools (WS/FCS).
Any student in the WS/FCS district is eligible for admission to the Academy. WS/FCS also operates a Pre-Kindergarten program within the school building.
As part of the partnership, WS/FCS provides bus transportation services and free school meals for all students.
Bus Transportation
The Academy works with WS/FCS to arrange bus transportation. Students who live in the Middle Fork residential area (determined by WS/FCS) receive bus transportation to and from home. All other students are provided transportation through community bus stops. Learn more about bus transportation services and/or contact the Academy to find out if you are in the Middle Fork residential area.
Free School Meals
All Academy students receive free breakfast and lunch. Learn more about school meals and view menus.
Why the Academy at Middle Fork is the right school for your child(ren)
The Academy provides a balanced education and so much more!
"We don't call them just students, we call them scholars. And so, by saying that they are scholars, that pushes them to say, "I am great, I am capable of learning, I can do this." — Monique Johnson, Fifth Grade Teacher
Academy students and teachers learn together through an integrated curriculum with flexible instruction. Curiosity is encouraged and student success is prioritized, and shared ownership of behavioral expectations results in a calm, happy environment.
Five reasons why you should enroll your child(ren) at the Academy at Middle Fork
Students learn and explore the world around them through engaging, hands-on lessons and activities along with interactive online instruction.
Families receive individualized support and learn how to best support their child(ren) academically and socially.
Teachers and staff are respected and appreciated — they receive instructional, curriculum and administrative support from App State.
The Academy promotes whole child development through the use of restorative practices, social and emotional learning, and other initiatives — our mini-Mountaineers receive rewards for demonstrating the school's core values: Honesty, Integrity, Kindness, Excellence.
Through the ongoing partnership with App State, Academy students, or mini-Mountaineers, are reminded daily that a college education can become their reality.
Multi-Tiered System of Support (MTSS)

Letter to parents: 4th and 5th grade students able to return to in person learning four days each week beginning March 8
In the best interest of supporting our scholars' academic and social-emotional growth and success, we are pleased to announce that our 4th and 5th grade students will be able to return to in-person learning four days each week beginning Monday, March 8, 2021.

Supply lists are for the 2021-22 academic year: Kindergarten - 5th Grades.