Information for Families
Welcome families!
Visit this page regularly for updates and information for families of current students.
Multi-Tiered System of Support (MTSS)
Safe Return to In-Person Instruction
Appalachian State University continues to make data-driven decisions informed by prevailing national, state, and local public health guidance, ordinances, and restrictions.

Our top priority in all decisions is the health, safety, and well-being of the App State community, which includes the Academy at Middle Fork. As scientific knowledge of the coronavirus continues to evolve, the COVID-19 pandemic changes over time, and government and public health officials issue new orders and guidance, App State will update procedures and plans as needed. The university will follow all state and federal orders, directives of The University of North Carolina System, and will adhere to guidelines from the Centers for Disease Control and Prevention (CDC) and state and local public health in order to ensure the safest possible on-campus environment. The Academy at Middle Fork has returned to in-person instruction for all students.
Face coverings are NOT required indoors for students, staff, and visitors, regardless of vaccination status.
Face coverings are NOT required on buses.
Social distancing is maintained to the extent possible without disrupting the learning environment.
Students are prompted to wash their hands regularly and use hand sanitizer throughout the school day.
Daily and weekly cleaning and sanitizing measures are in place to minimize the spread of COVID-19.
Parent Announcements
Printable Academic Calendar 2022-23
Download the printable Academy at Middle Fork Calendar 2022-23 (PDF, 401 KB)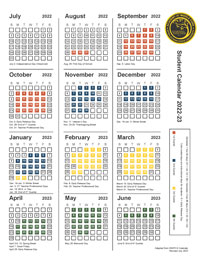 In keeping with the transportation and nutrition schedule of WS/FCS, our public school partner, the Academy at Middle Fork will follow the same school year calendar. This includes:
arrival/dismissal
early dismissal
teacher in-service days
parent/teacher conferences
holidays
summer days
open house