Allison Wright, a graduate student in Appalachian State University's Beaver College of Health Sciences' social work program, has discovered her passion for working with children and families through her internship at the Academy at Middle Fork.
Dr. Amie Snow, Director of Curriculum and Instruction at the Academy, observed that Wright quickly connected with students at the Academy, offering the needed support to improve their confidence and self-esteem.
"She has given students new strategies to cope with difficult situations and has shown them love and compassion," noted Snow.
"I have uncovered a coinciding passion for social-emotional learning and the importance of it being implemented within schools," Wright added.
As a school social work intern, Wright's responsibilities are central to student, family, and school success. These responsibilities included:
Helping students and families who were attending remotely get connected so they could engage;
Attending weekly interdisciplinary team meetings to ensure the Academy is meeting student, family, and school needs;
Providing weekly supportive listening sessions to students; and
Implementing and facilitating short-term social-emotional learning in small groups to teach students the five core competencies of social-emotional learning to further encourage and enhance student success.
"Allison has the insight and compassion needed to be a great social worker," said Rhonda Lang, Child and Family Support Team Social Worker at the Academy.
"She has already made an impact on the students she has worked with, and I look forward to hearing about her success in this field," she added.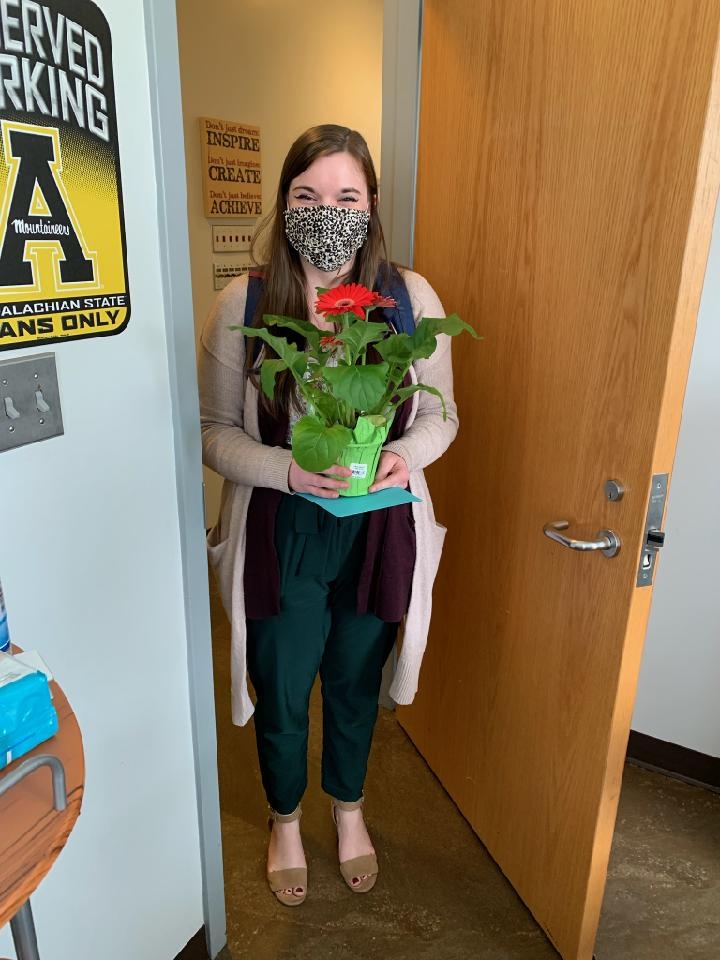 In celebration of School Social Work Week, the Academy recognized Wright with flowers. Photo submitted.
Though the COVID-19 pandemic has presented many challenges, Wright noted successes in her internship experience. "The social-emotional learning small groups I have facilitated have received excellent feedback from the administrative team, teachers, families, and students!"
"Successes like these are what provide me with confirmation that I am doing good things," she continued. "I am implementing something I enjoy, am passionate about, and something I have gotten incredible feedback on!"
Tasha Hall-Powell, principal at the Academy, noted that Wright has "a heart for children and has made a lasting impression on the Academy, especially with our young scholars."
"She has demonstrated tenacity and compassion in her collaborative efforts with our student support team and will do well in her future career endeavors," added Hall-Powell.
Learning Together
One of the four core commitments at the Academy is "learning together". For Wright, learning together means collaboration and life-long learning.
"I think that the Academy learns just as much from each other, and their students and families, as the students and families learn from the Academy," she noted.
Wright sees this taking place on a daily basis at the Academy, particularly through the morning meeting.
One of her favorite experiences during the morning meeting was during Black History Month in February. "Each morning, the facilitators acknowledged the importance of Black history and offered the students and staff important dates/events in Black history, recognized Black individuals in history, and even incorporated music by Black artists," recounted Wright.
Wright noted that it was each member of the Academy's Black History Committee who made all of this happen. "This was a beautiful way to celebrate Black history and incorporate it into the day."
Impacting Education in Her Community
Wright is impacting education in her community by offering a supportive space for learners. As a life-long learner, she encourages those around her to practice life-long learning, compassion, and humility. "We have the opportunity to learn every day; we must be willing to recognize it and be receptive to it."
Wright, who is originally from Jefferson, North Carolina, plans to stay in the state and continue working with children and families, ideally in a school or clinical setting, after her graduation this coming May.
"I would love an opportunity where I am able to continue to provide social-emotional learning skills, as well as resiliency tools, to encourage success among youth and their families within the community," she continued.
She chose to attend App State for both of her undergraduate and graduate degree programs because of the excellent social work programs.
"I have found so much joy in my experiences within Appalachian State University, including the Academy!"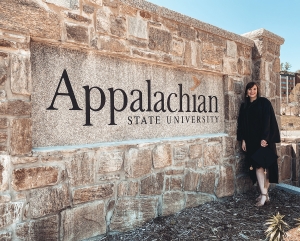 Tags: