The Appalachian State University Academy at Middle Fork hosted poet-in-residence Adrian Rice during the month of May, culminating with an event titled "The Poetry Cafe" on June 6. Rice visited each of the Academy's classrooms twice, where he read his original works and helped students craft their own poems.
Rice is an award-winning poet originally from Belfast, Northern Ireland. He is also an adjunct professor and doctoral student at Appalachian State University.
Rice became involved with the Academy because of a five-year collaboration with Drs. Beth Frye '91 '93 '04 and Woodrow Trathen. Frye is a professor of reading and language arts and serves as reading program director in the Department of Reading Education and Special Education (RESE) in Appalachian's Reich College of Education (RCOE). She also serves on the Academy's curriculum team, assisting with literacy efforts. Trathen is a professor of reading education and RESE's department chair. He also serves as a member of the Academy's Advisory Board.
Together, Frye, Rice, and Trathen have presented research nationally at the American Reading Forum annual conference, and internationally, at the Literacy Association of Ireland. They are also currently working together on a book about teaching poetry.
In addition, they are implementing their research and strategies for teaching poetry in real classrooms. In 2017, they teamed up to share and teach poetry in several local schools in Avery and Watauga counties. This year, Frye worked with Rice to bring poetry into the Academy's classrooms.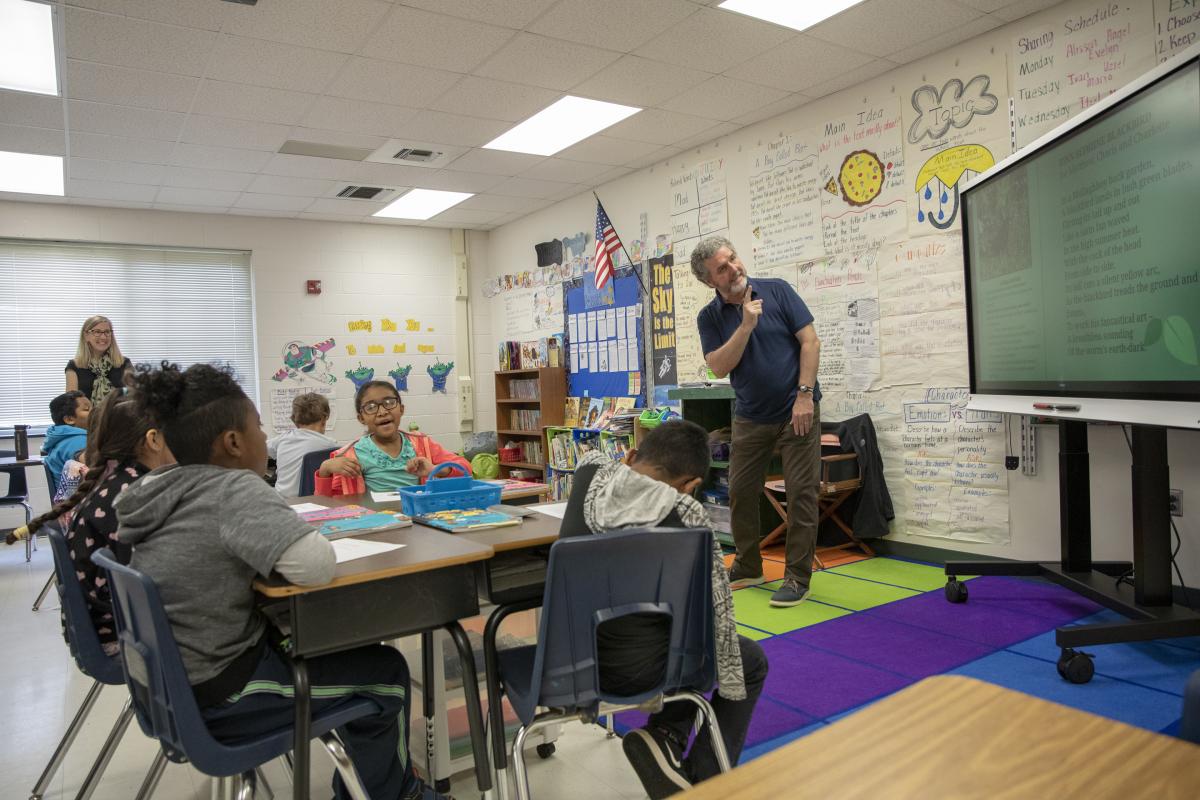 Rice (center) and Frye (left) engage with students in Suzanne Smith's third-grade classroom at the Academy at Middle Fork. Photo by Troy Tuttle
As poet-in-residence, Rice introduced students to poetry as he read from his published works. Together, Rice and Frye engaged students and teachers through instructional sequences that invited students to compose, collaborate, revise, and share their work.
Poetry in Action
On Friday, May 17, the excitement in Suzanne Smith's third-grade classroom is contagious as Frye and Rice engage with students on the first of two visits.
Before reading one of his original works, "Rinn Seimhne Blackbird," a poem about a blackbird that is dedicated to his three oldest children, Matthew, Charis and Charlotte, Rice talks with the class about what inspires him. He explains that he chose to use Irish Gaelic in the title as a nod to his own story.
"A blackbird lands in lush, green blades,
Flirting its tail up and out,
Like a satin fan waved,
In the high summer heat,
With the cock of the head,
From side to side,
Its bill cuts a silent, yellow arc."
--Rinn Seimhne Blackbird by Adrian Rice
He then reads the poem to the silent classroom… twice. Because, as Rice insists, "You must read a poem more than once... you might miss something!"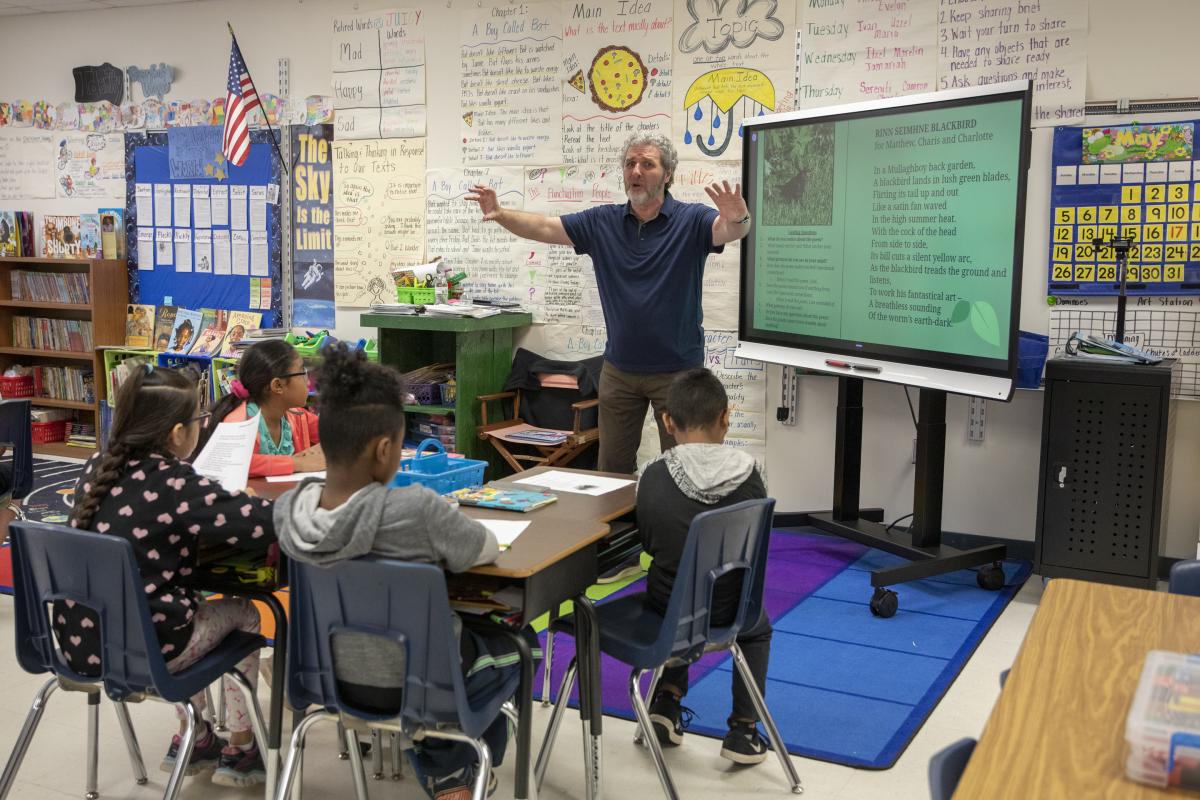 Rice shares and acts out his poem, "Rinn Seimhne Blackbird." Academy third-grade students eagerly watch. Photo by Troy Tuttle
Frye then leads the class in "snaps." Snaps serve as applause at poetry readings - a tradition started by the Beatniks during the 1950s that continues to this day.
Then, she asks the students what they noticed and what they liked about the poem.
Hands shoot up. The students are eager to respond.
This is the goal - Frye and Rice want to make poetry accessible to Academy students and to create excitement around a part of the language arts curriculum that is more typically greeted with groans than snaps.
Once the conversation lulls, the students demand another poem. This time it is an interactive piece titled "Prayer" about a butterfly caught in a spider's web.
Rice first explains the story behind the poem - that while sitting on his front porch, the "poetry porch," he observed a butterfly that appeared to be praying as its wings struggled to open and close in the sticky web. Seeing expressions of dismay, he quickly assures the class that he helped the butterfly escape and invites them to open and close their hands, like the butterfly's wings, as he reads.
The room erupts with snaps, immediately followed by hands in the air as students compete to share observations and suggestions.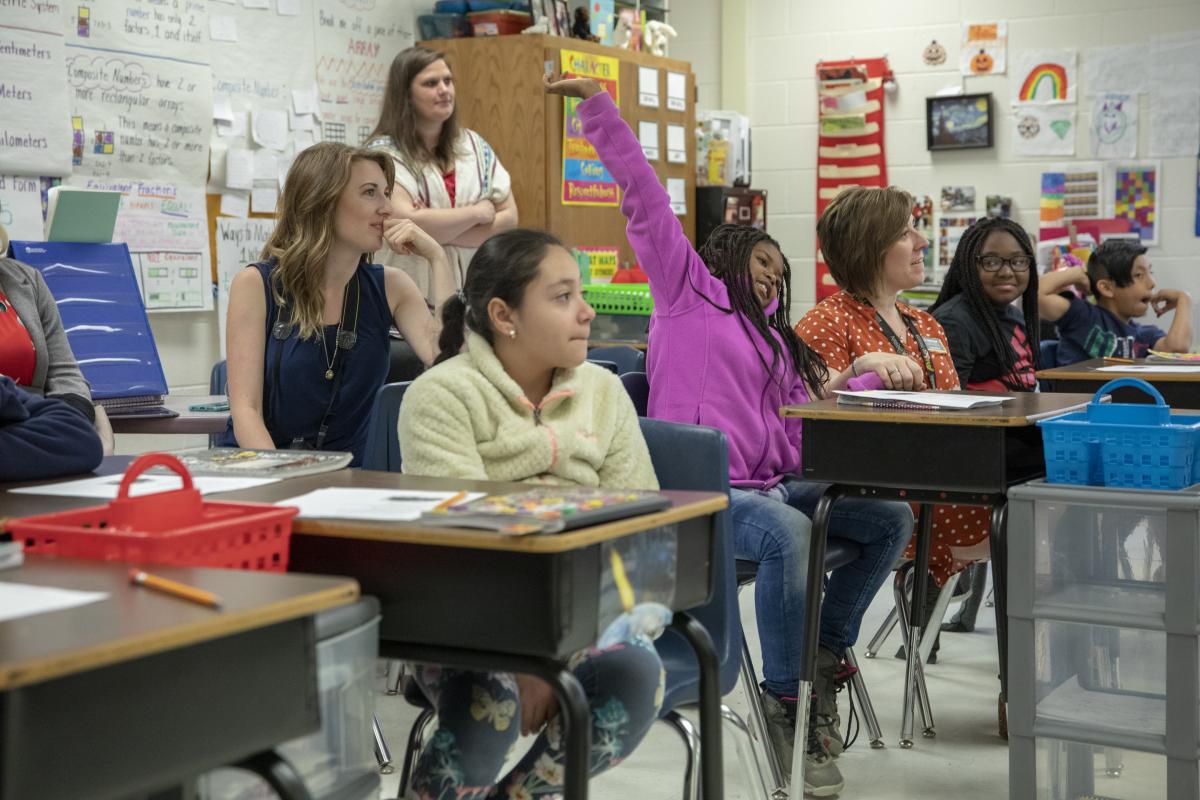 Academy third grader, Jamariah Hairston, raises her hand to share what she noticed and liked about the poem. Photo by Troy Tuttle
Then, it is their turn. Frye and Rice ask the students to write their own poem about a favorite place as part of a guided poetry lesson. Frye and Rice provide the first few words of each line and ask students to complete the thought in a way that is personal and meaningful.
Their responses are varied: my house, the gym, the beach, the mountains. One student names a favorite restaurant, another selects school. Why? Because school is where she sees her favorite teacher!
The Art of Language
Rice also had a favorite teacher. "He captured me with poetry," recollects Rice of the high school teacher who introduced Rice to what would later become his passion and livelihood. To this day, he remains astonished that he gets paid to be a poet.
Rice has worked as a poet-in-residence for the past 15 years, traveling worldwide and working in a variety of schools and arts councils. Working in a K-5 school, like the Academy, forces Rice to examine his poetry with a child's eyes and ask what poems work for first-graders? Fifth-graders? Rice calls it a "wonderfully particular experience."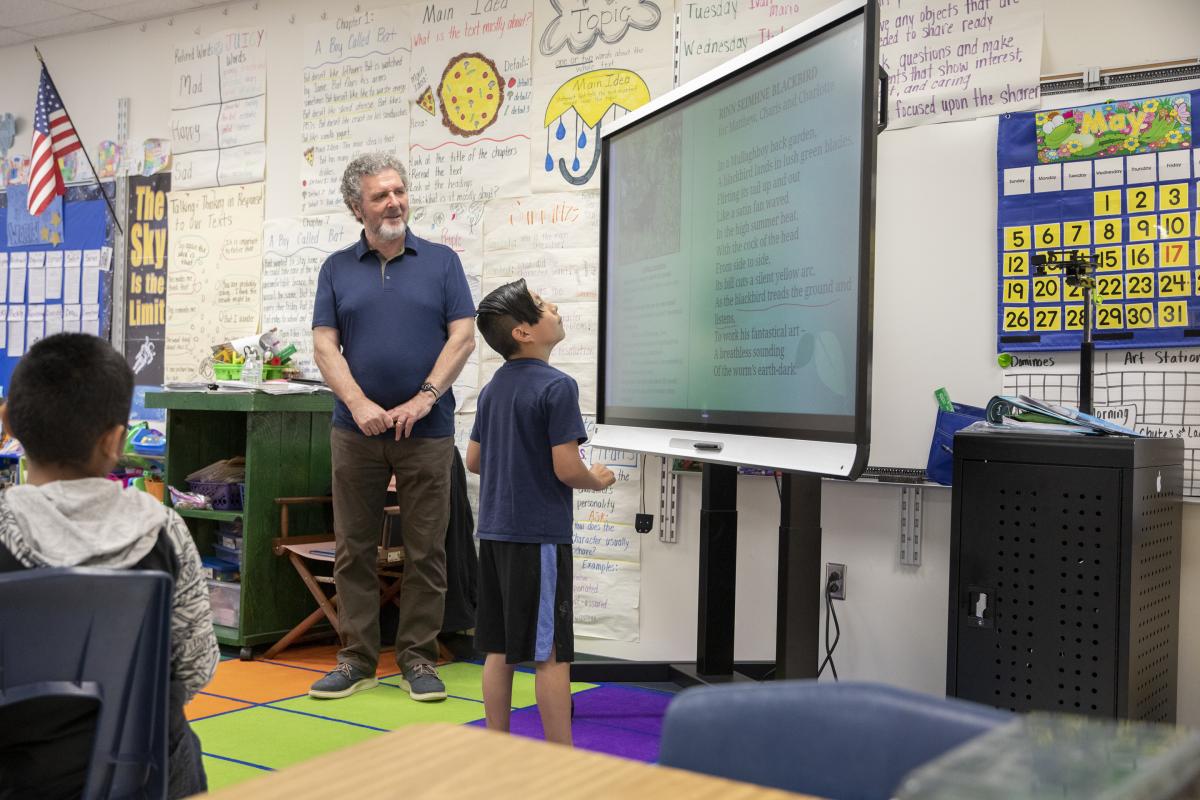 Academy third grader, Angel Torres Alexander, underlines his favorite part of the poem as Rice observes. Photo by Troy Tuttle
It is also an interactive experience.
Frye worked closely with the Academy's Director of Curriculum and Instruction, Dr. Amie Snow '06 '14, to develop the school's language arts curriculum and to present components, like poetry, in new and interesting ways.
"Language arts includes reading, writing, speaking, listening and viewing," says Frye. "And, poetry captures each of those elements. It's an engaging way to provide a capstone experience for students."
"Language arts includes reading, writing, speaking, listening and viewing. And, poetry captures each of those elements. It's an engaging way to provide a capstone experience for students." --Dr. Beth Frye

The Academy's four commitments - learning together, developing the whole child, boosting academics and amplifying sustainability - along with the four curricular strands - identity, movement, our world and changes - provide ample opportunities for interactive and experiential learning.
Specifically, Frye shares that some of the fifth-grade students participated in haiku hikes where they experienced nature and then captured that experience in verse. She adds that learning poetry from a real, published poet is meaningful to the students.
"Students are making a deep connection between reading poetry and their own generative writing, which deepens comprehension," says Frye. "Discussing and then sharing their own poetry takes it even further."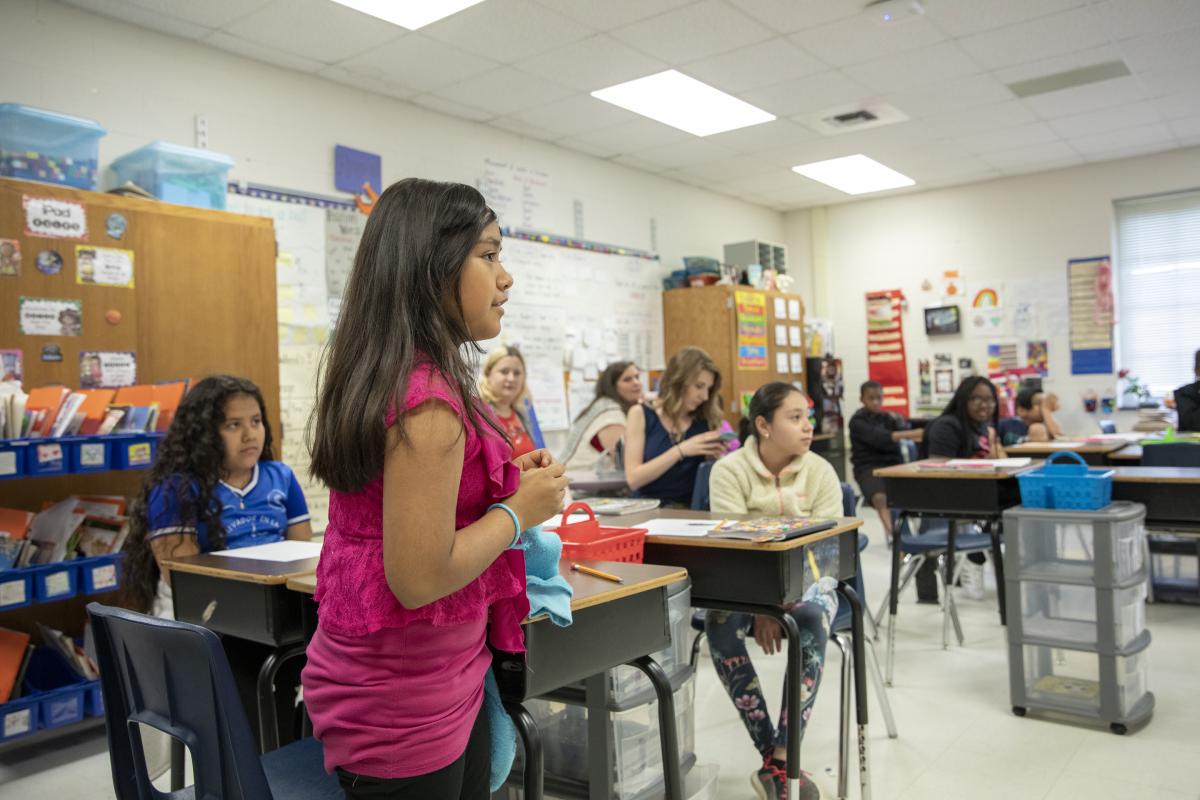 Academy third grader, Itzel Escobar-Torres, shares the first line of her poem. Photo by Troy Tuttle
Frye recalls that students were hesitant to share their original poems at first, so she suggested, "dig into your suitcase of courage."
This is no longer the case. The students feed on each other's energy and are proud to share their work, their accomplishments.
At the culminating event, "The Poetry Cafe," on June 6, the Academy celebrated the month-long poetry study as students shared their original poems.
"Our mini-Mountaineers shared incredible pieces - some were heartfelt descriptions of friends and family, some were funny and insightful," said Snow. "Every piece was clever and thoughtful. We are so impressed and proud of all of their hard work this year."
Snaps all around!
About Adrian Rice
Adrian Rice, originally from Belfast, Northern Ireland, is a published poet and First Year Seminar instructor at Appalachian State University as well as a doctoral student. He earned an MPhil in Anglo-Irish literature and B.A. in English and politics from the University of Ulster. In 1997, Rice received the Sir James Kilfedder Memorial Bursary for Emerging Artists, and in 1999, as a recipient of the US/Ireland Exchange Bursary, he served as Poet-in-Residence at Lenoir-Rhyne College in Hickory, North Carolina. Rice has worked as a poet in innumerable schools, colleges, and community groups, and has delivered writing workshops, readings, and lectures throughout the United Kingdom and Ireland and the United States. His first sequence of poems appeared in Muck Island (1990), a collaboration with leading Irish artist, Ross Wilson. His first full poetry collection, The Mason's Tongue (1999), was shortlisted for the Christopher Ewart-Biggs Memorial Literary Prize and nominated for the Irish Times Prize for Poetry. Recent poetry titles, The Clock Flower (2013), Hickory Station (2015), and his latest book, The Strange Estate: New & Selected Poems 1986-2017, are all published by Press 53 (Winston-Salem). Rice lives in Hickory, North Carolina with his wife, Molly, and young son, Micah.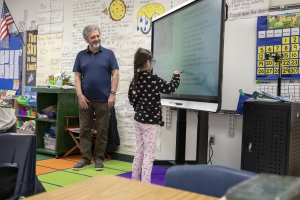 Tags: