Even though the Appalachian State University Academy at Middle Fork completed its first academic year on June 11, it did not close its doors for the summer. Faculty, staff, and students continued to learn and grow, and the school continued its progress during the months of June and July. With the first day of the 2019-20 school year fast approaching, here are five things that happened this summer that you should know about:
1. The Academy received praise for increasing student success in its first year as a lab school.
Talk to any of the students or faculty at the Academy - or simply step inside the building - and you'll instantly sense the positive attitude and energy that comes from a school which puts an emphasis on happiness and engagement. But it's not just the Academy team members who have noticed the great things the school is doing for its community. After wrapping up this past academic year, the Academy received high accolades from outside sources for increasing student success in literacy and learning. From a social media shoutout from Appalachian's Chancellor Sheri Everts to an EducationNC (EdNC) article, there was no shortage of praise. Follow the links below to read more:
App Academy lab results come back positive – for joy and engagement
ASU lab school sees improvements after completing first year
UNC laboratory schools are changing the formula for education in N.C.
2. Several teachers began their journeys to master's and doctorate degrees.
At the Academy, students aren't the only ones pursuing an education - some of the teachers are also Appalachian students! Seven teachers are enrolled in Appalachian's master's program in reading education which is housed in the Reich College of Education (RCOE): Media Specialist Carla Clayton, Kindergarten teachers Kim Britt and Brittany Hendricks, 1st grade teacher Alicia Kinzer, 2nd grade teacher Brent Macrow, and 3rd grade teachers Suzanne Smith and Julie West '19.
In addition, two Academy teachers, ESL teacher Chantae Reynolds '19 and 2nd grade teacher Kori Trainor '10, enrolled in Appalachian's doctoral program in educational leadership, also housed in the RCOE. Reynolds earned her graduate certificate and Trainor earned her master's degree in reading education at Appalachian and both are pursuing the literacy in exceptionalities doctoral track.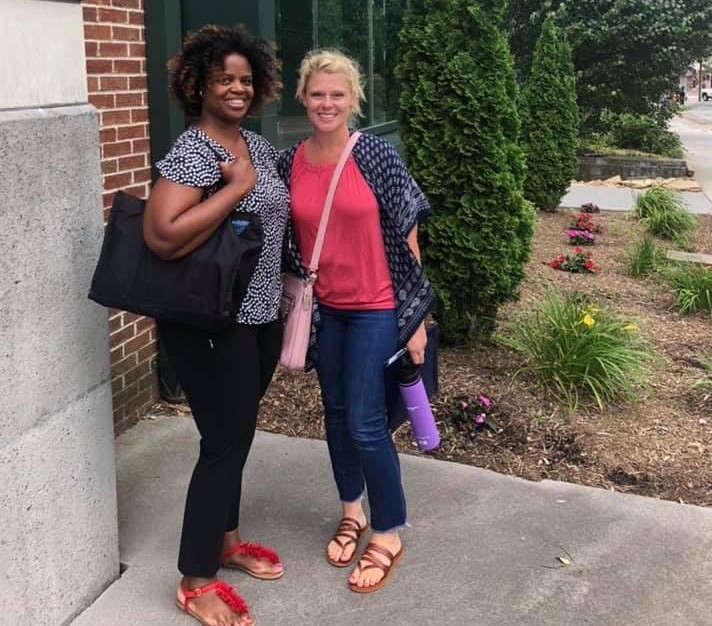 Reynolds (left) and Trainor (right) pose outside of the Turchin Center for the Visual Arts on the first day of their doctoral program at Appalachian. Photo by Amie Snow
Furthermore, director of curriculum and instruction Dr. Amie Snow '06 '14 is enrolled in Appalachian's graduate certificate program in school leadership, also housed in the RCOE. Snow holds her master's in reading education and doctorate in educational leadership from Appalachian.
When these Academy team members have completed their programs, they will increase the number of Appalachian alumni employed at the school to 14.
3. Teachers participated in the Winston-Salem Scottish Rite's annual golf tournament benefiting the Academy.
On June 21, Academy team members - including Dr. Eric Groce, professor in the RCOE's Department of Curriculum and Instruction, Gina Harwood, Executive Director of Development for the RCOE, Macrow, Trainor, and Trainor's spouse Kory Trainor - represented the school at the Winston-Salem Scottish Rite's annual charity golf tournament, Ringers for RiteCare. A chapter of the non-profit organization Scottish Rite, the Winston-Salem Scottish Rite's cause is "human progress." The organization is an ongoing supporter of the Academy.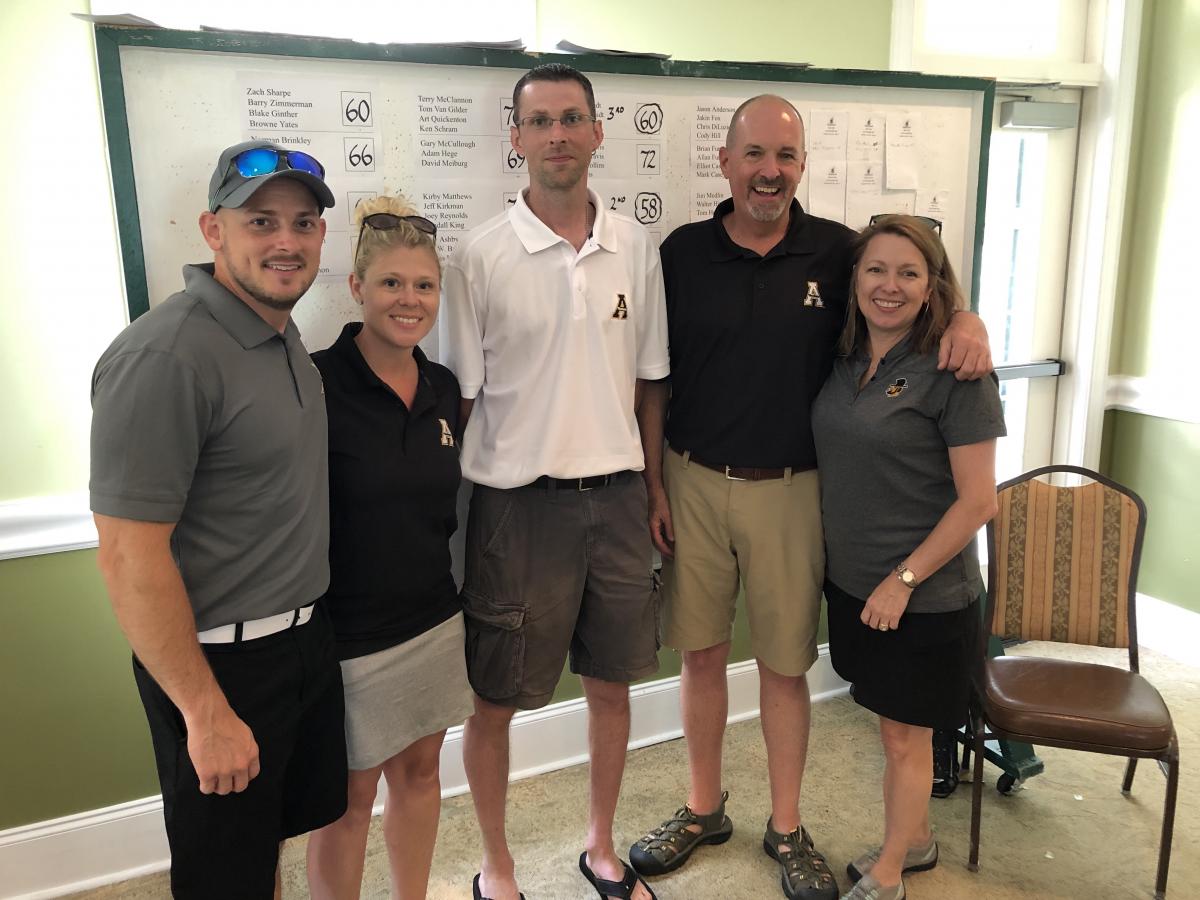 From left to right: Kory Trainor, Kori Trainor, Macrow, Groce, and Harwood represent the Academy at Ringers for RiteCare. Photo submitted
At the tournament, our team members not only had fun, but they walked away with several awards:
Macrow and Kory Trainor were both awarded with Closest to the Hole for two different par three holes
Kori Trainor received the award for Longest Drive by a Woman in the tournament
Proceeds from Ringers to RiteCare go towards supporting speech, reading, and language disorders clinics, and Appalachian and the Academy benefits from a portion of those proceeds. It's safe to say that this tournament was a hole-in-one!
4. The Academy held its first ever summer enrichment program and summer reading clinic.
Who says learning has to end when school does? During July, the Academy welcomed back some of its mini-Mountaineers to participate in the first annual summer enrichment program and summer reading clinic.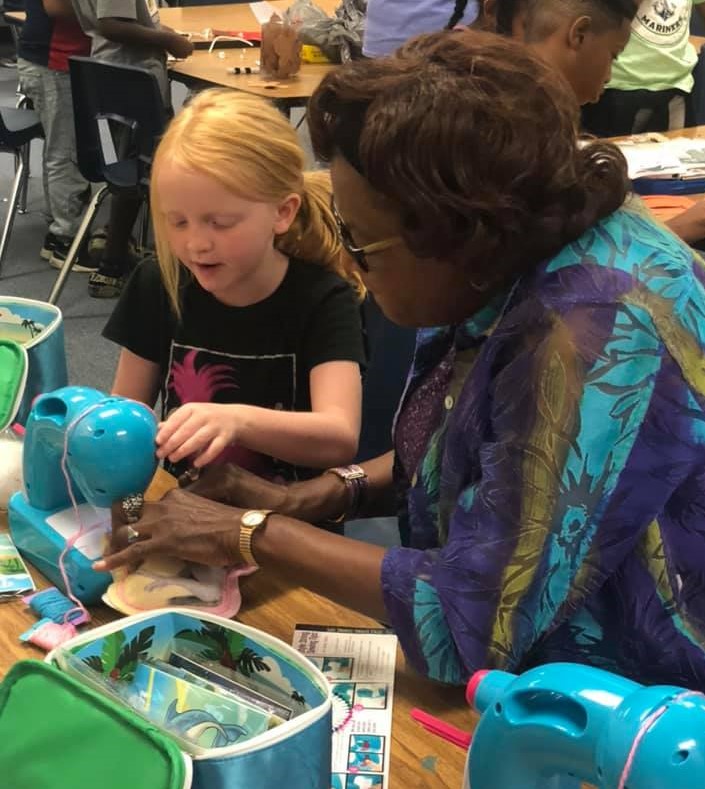 4th grade teacher Wanda McLemore (right) teaches rising 3rd grader Quinlan Hushbeck (left) how to use a sewing machine as part of the Academy's summer enrichment program. Photo by Amie Snow
As part of the summer enrichment program, students tested out the school's new Makerspace (a place where users of all skill levels can come together to bring their ideas to life by "making" things), experimented with science, technology, engineering, and mathematics (STEM) projects, and got the chance to build and create through hands-on activities like sewing, building mazes, and using 3-D pens to design animals and robots. With the support of their teachers, the students got a chance to think and grow by designing their own creations.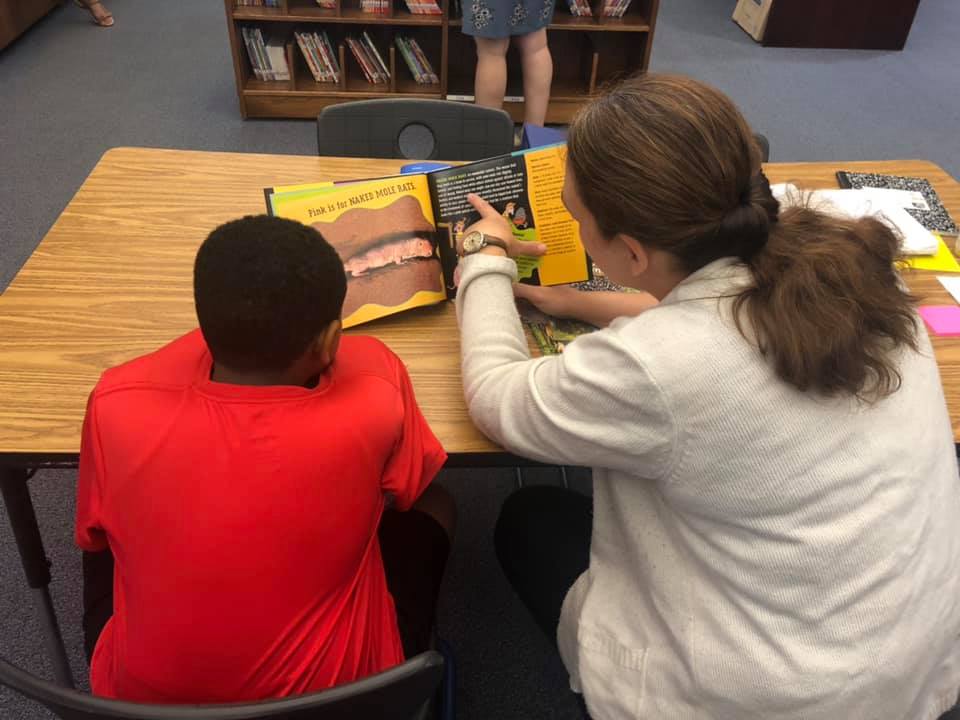 Rising 5th grade Tracen Tyner (left) and reading education graduate student Kim Settlemyre (right) read together at the Academy's summer reading clinic. Photo by Amie Snow
Teachers and students had the chance to "learn together" at the Academy's summer reading clinic. Faculty implemented new reading instructional strategies they learned as part of a graduate class in the MA reading education program to strengthen students' literacy skills, and students increasingly read and wrote with excitement. Activities included learning how to write nonfiction and playing word association games.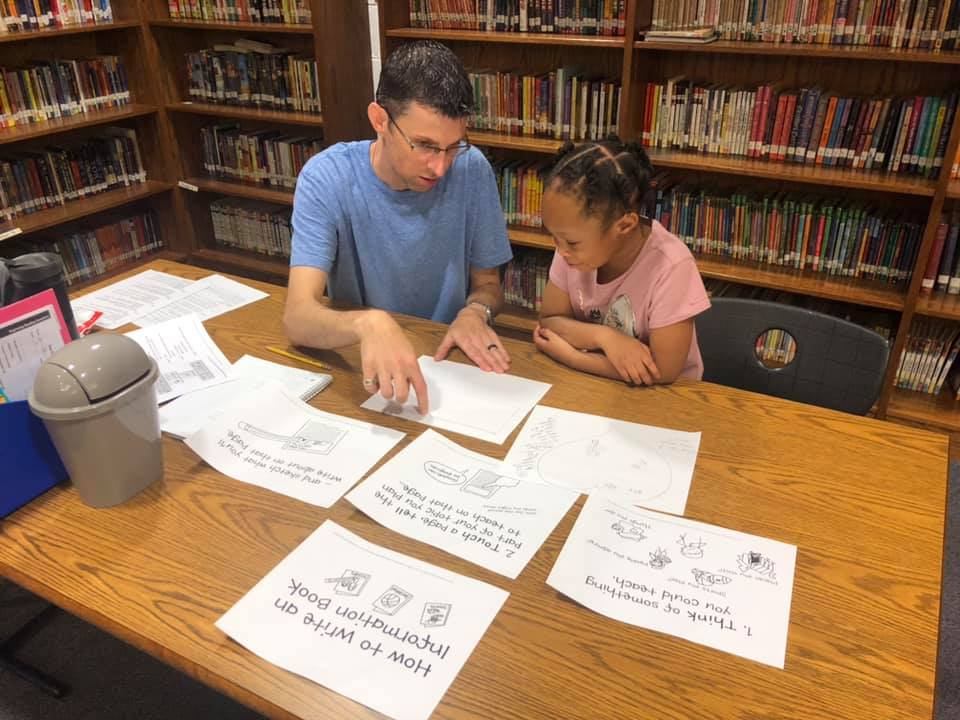 Macrow (left) and rising 1st grader Alicia Spain (right) work on writing nonfiction at the Academy's summer reading clinic. Photo by Amie Snow
5. Academy teachers and administrators attended training and discussed methods to make the school more environmentally sustainable.
One of the Academy's key commitments is "amplifying sustainability," and this summer, it took a step towards honoring that commitment. In June, the Academy partnered with the RCOE's Sustainability Committee, Appalachian's Office of Sustainability, and Blue Ridge Women in Agriculture (BRWIA) to train Academy teachers, staff, and administrators on environmental stewardship and sustainability.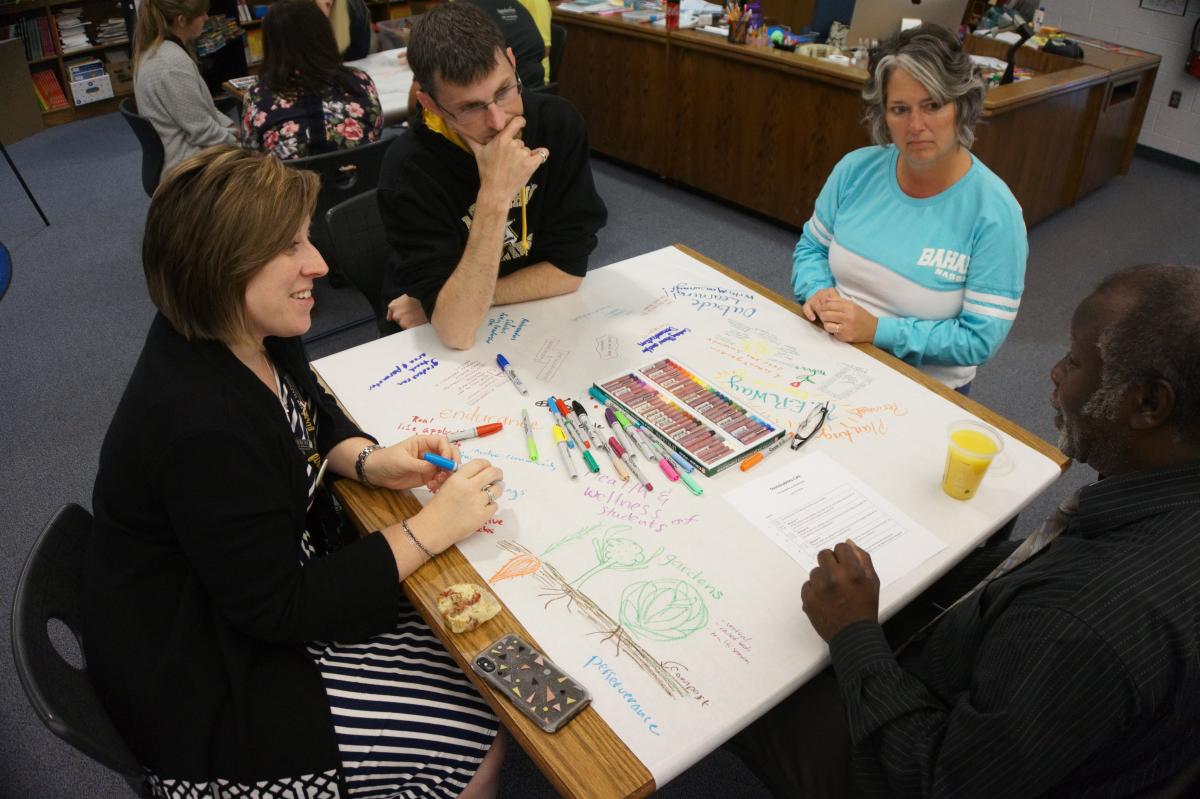 From left to right: Snow, Macrow, 1st grade teacher Marla Cantrell, and Master Gardener Johnell Hunter, Sr, discuss the construction of a school garden at the professional development training held in June. Photo by Vachel Miller
The training, which was held onsite, was made possible through funding from the JustPax Fund (JPF), a grant-making organization dedicated to supporting the work of gender, environmental, and economic justice. The professional development explored ways to incorporate sustainability into the curriculum and culture of the Academy through initiatives like school gardens and zero-waste planning. Attendees are eligible to receive mini-grants of up to $1,000 in support of implementing said initiatives. Read more: Amplifying Sustainability at the Academy at Middle Fork.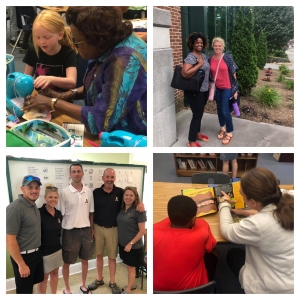 Tags: