Derek Hernandez Evora, a fifth-grader at Appalachian State University's Academy at Middle Fork began: "It's time to get started!"
Students had been eagerly awaiting the visit of award-winning author and poet, Kwame Alexander, to the Literacy-Cast on March 3, 2021.
Interactive Literacy Experiences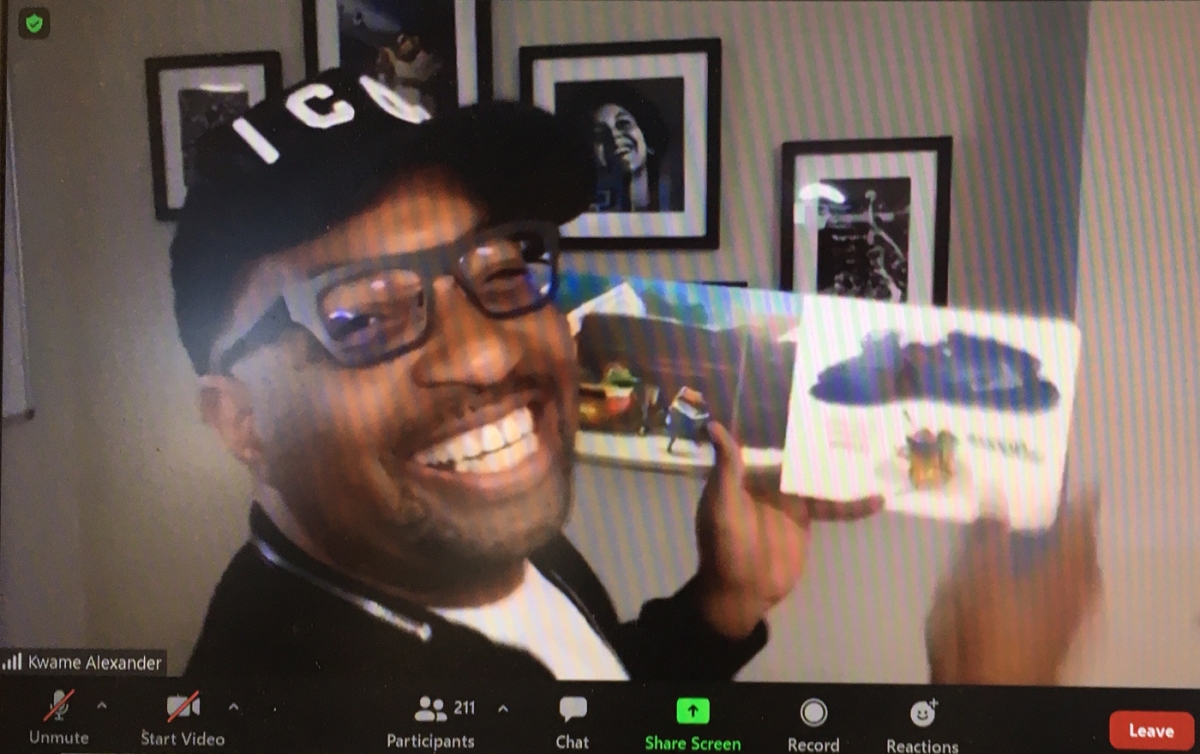 Created by Reich College of Education's (RCOE) Department of Reading Education and Special Education faculty Dr. Devery Ward, associate professor and director of the Anderson Reading Clinic; Dr. Beth Frye, professor and program director for reading education; Dr. Jason DeHart, assistant professor; and Dr. Beth Buchholz, assistant professor; the Anderson Reading Clinic Literacy-Casts are collaborative, interactive literacy experiences held online via Zoom.
Along with the RCOE faculty, Academy students - fifth-graders Noor Ahmed, Evelyn Espinoza, Derek Hernandez Evora, Charlie Taylor, and Benjamin Wells; fourth-grader Kinsley Hill; and third-graders Dawson Nethecott and Shekinah Wilson - co-hosted Alexander's visit.
Students engage virtually with Alexander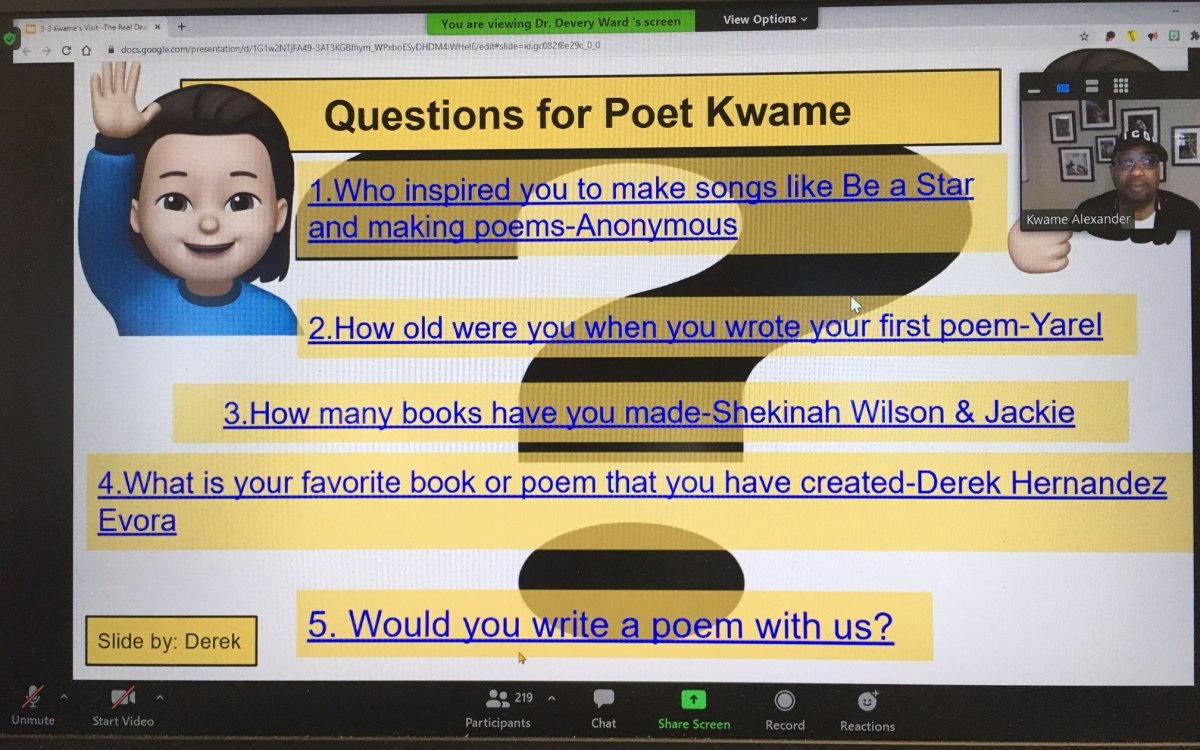 The students designed the slides for the presentation, created a "Kwame-quiz", and led a virtual dance to Alexander's playbook video. Hernandez Evora also interviewed Alexander with student-submitted questions, and Espinoza led the group in sign-language for Nikki Giovanni's poem, "The Drum". The children presented this poem as a gift to their guest as, according to Alexander, Giovanni was one of his beloved college professors.
In addition to the student-led activities, the students invited Alexander to read from his books. Full of energy and animation, he began with Surf's Up, a story where the characters have very different ideas about how to spend the day at the beach. He then engaged students in a poignant reading of The Undefeated, a poem to black life in the United States, asking listeners frank questions about the history of African Americans that is often left out of textbooks.
"Kwame brings so much life to the books he reads," said Fiona Skenderi, a graduate student in App State's reading education program.
Alexander, who joined Literacy-Cast from London, England, was "blown away" by the student-led event.
Along with Alexander, the 230+ participants included:
App State graduate and undergraduate students;
Academy staff;
Academy students; and,
K-5 students from across the state.
Book Donation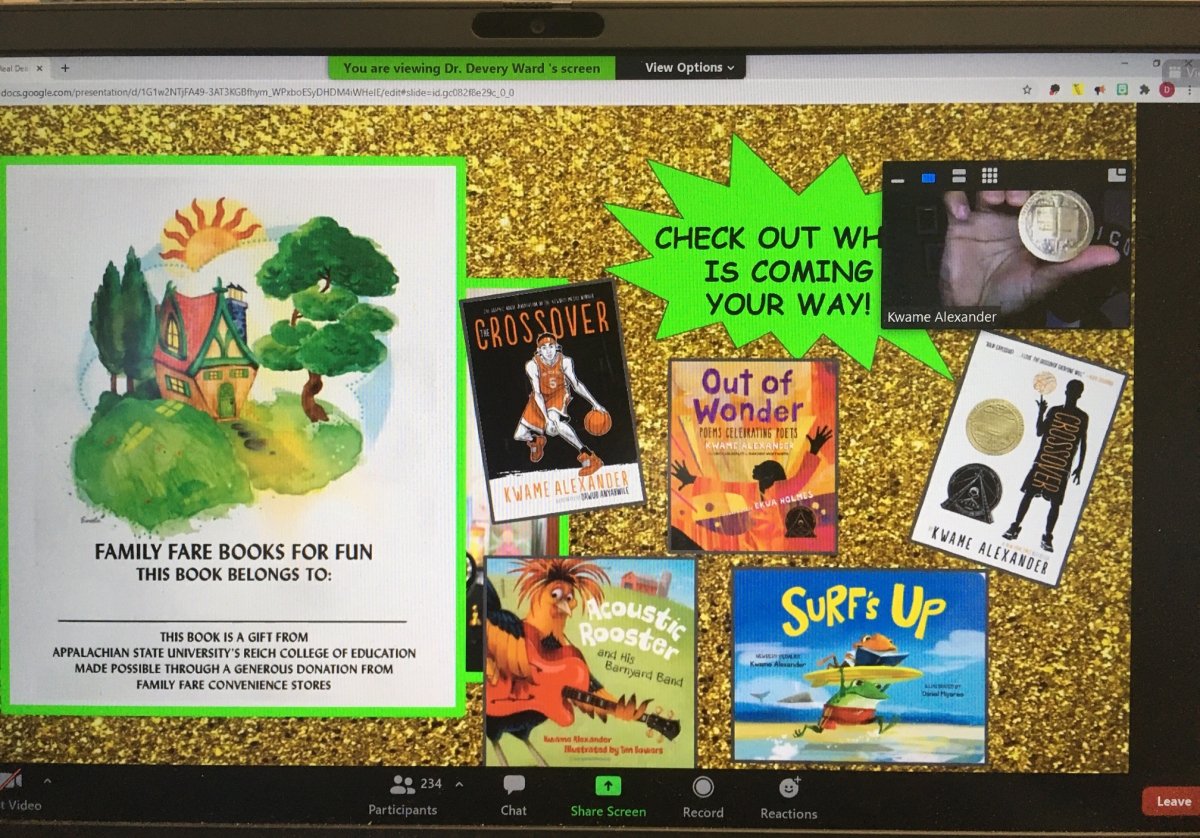 Books remain central components of shared readings and collaborative compositions for the Literacy-Cast. To that end, students attending the Academy at Middle Fork received a copy of one of the following books by Alexander: The Crossover Graphic Novel, Out of Wonder, Acoustic Rooster, or Surf's Up. These books were purchased with the Family Fare Books For Fun Program, made possible through generous donations from Family Fare Convenience Stores. In addition, App State Chancellor Sheri Everts also provided Alexander's book How to Read a Book to each student during her virtual visit to the Academy on February 24, 2021.
When Wilson saw a picture of the cover Crossover, she noted there were two badges on the cover, one for the Coretta Scott King Award and one for the Newbery Medal. Alexander then showed his Newberry medal to the students.
"We're the luckiest people on earth to be here with the legendary poet Kwame Alexander," said fifth-grader Benjamin Wells.
Poet Snaps
The Literacy-Cast concluded with a collaborative poem. Members of the community, including children, teachers, graduate students, and administrators alike, shared suggestions via the Zoom chat. Alexander and Frye read contributions aloud, and Ward scribed. The Literacy-Cast concluded with Alexander reading this shared creation aloud:
Academy principal, Tasha Hall-Powell '01 '09 thanked Alexander for his visit: "Thank you, Kwame, for your words, your gifts and your kindness shared with our scholars today! We will remember this always!"
"When the world opens back up, I'm coming to your school," exclaimed Alexander.
Alexander's visit was made possible through a grant initiated by Dr. Christy Wessel Powell at Purdue University, as well as the continued support of donors including Pat Anderson, Lee Barnes, the family of Uberto Price, and the Winston-Salem Scottish Rite.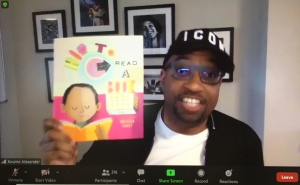 Tags: