Welcome, 2020! That means we are halfway through the 2019-20 academic year. The fall semester at the Appalachian State University Academy at Middle Fork was filled with excitement and lots of learning. Read on for selected highlights:
Year Two Begins with a Busy August and September
After a phenomenal first year, the Academy opened for year two, starting with Open House on Thursday, August 22. The first day of class was Monday, August 26.
Also in August and September:
Read more: Academy High Five: August and September
Global Learning
During October, the Academy celebrated Hispanic Heritage month with decorations to show all the countries represented by students and a Spanish "Word of the Day" during morning announcements as well as Hispanic-related topics in art class and songs in Spanish in music class. Hispanic Heritage month concluded with a special event showcasing all that the students had learned and created.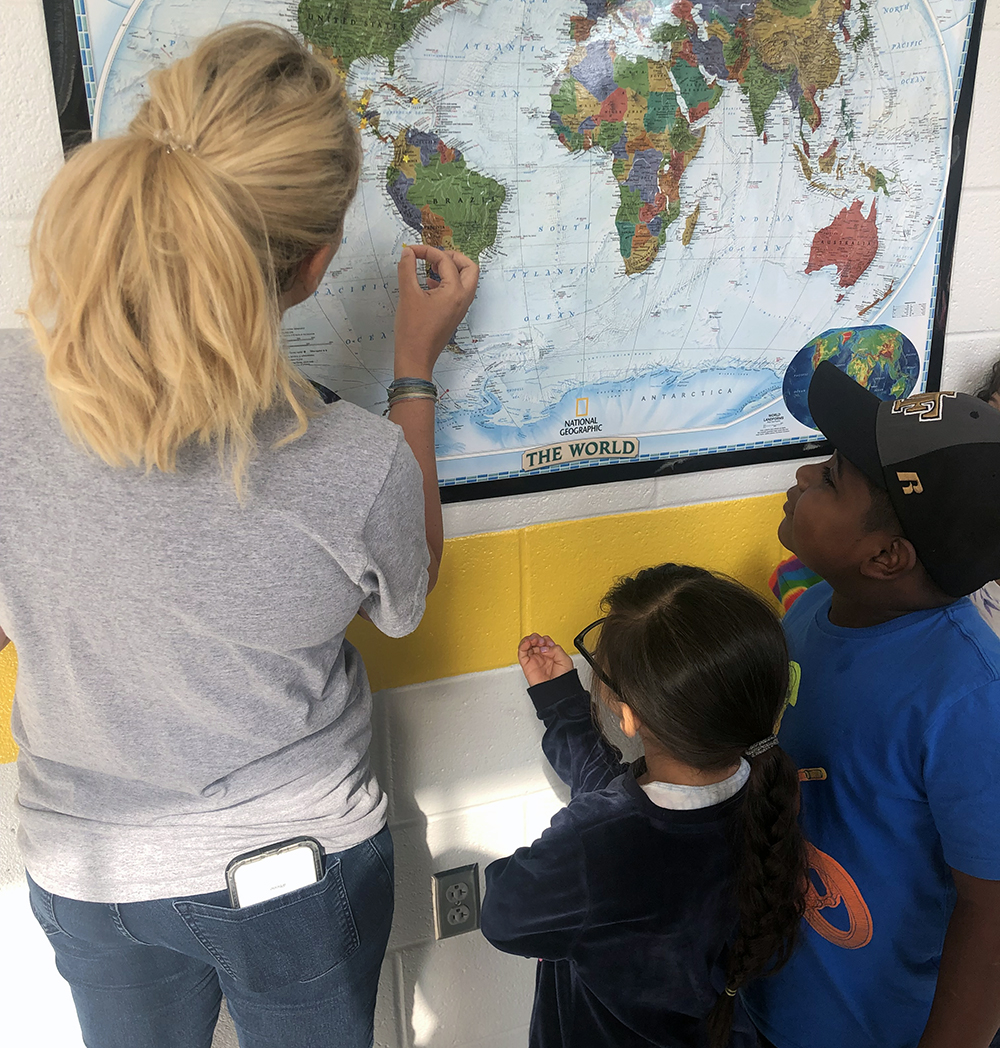 Academy second-grade teacher, Kori Trainor '10, and students, Kaylee Trejo and Brandon Marcial Santos, push pins into a map showing the countries represented by students. Photo submitted
And, on October 9, Academy students took a trip around the world with an amazing visit from the Fulbright Teaching Excellence and Achievement (TEA) participants and Appalachian Community of Education Scholars (ACES) students! This was a collaborative project that featured 17 different booths that Academy students visited to learn about education in other countries. Read more: Around The World in 80 Minutes
Student Government in Action
On October 25, members of Appalachian State University's Student Government Association (SGA) visited the Academy to help our student council candidates work on speeches and campaign posters! On November 1, the fifth graders gave their Town Hall Speeches, where they outlined their ideas about how to make the Academy event better! The Academy students appreciated the support from Appalachian's SGA and had a ton of fun learning how to be engaged with the governmental process.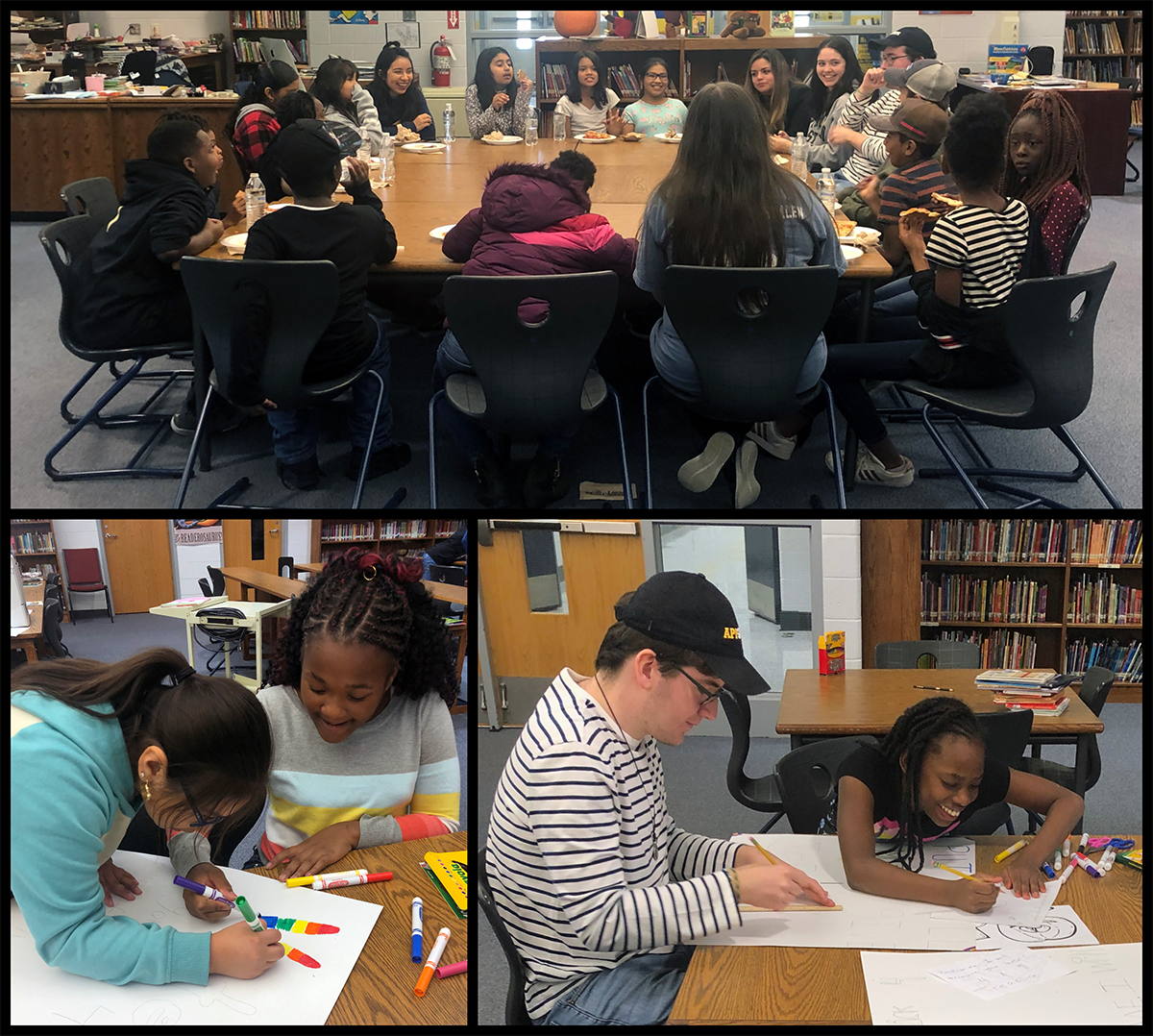 Academy student council candidates met with Appalachian SGA members and worked on campaign posters together. Photos submitted
Creating a Positive Learning Environment
Students in grades K–5 earn Mountaineer tokens for exhibiting honesty, integrity, kindness and excellence (HIKE) — then redeem their tokens at a trading post for school supplies, treats and Appalachian gear. The Academy's own Daron Daniels was featured in Appalachian Today for the work he has done leading mini-Mountaineers on a HIKE toward success.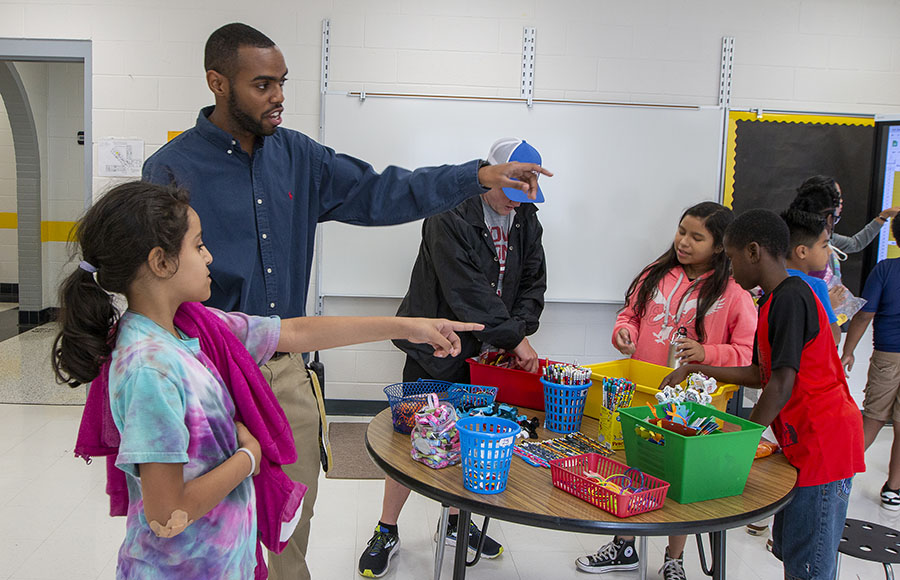 Darron Daniels supervises students at the Appalachian Academy at Middle Fork as they redeem positive behavior tokens for school supplies and treats. Photo submitted
By collaborating with teachers to identify students with high-level needs — those who have had frequent visits to the office for behavior issues, Daniels "[establishes] relationships with these students, become the person they come to talk to if they're having issues and communicate strategies with them."
Read more: Positive incentives guide students at App State Academy at Middle Fork
Learning is Fun!
As part of a Go Outside (GO) Grant through the NC Outdoor Heritage Advisory Council, our mini-mountaineers were able to visit the North Carolina Zoo, located in Asheboro, North Carolina, on October 24. They spent the day learning all about the animals and exploring the zoo. The grant was established to help with funding for field trips and outdoor experiences, which offer students opportunities to explore and learn in hands-on environments.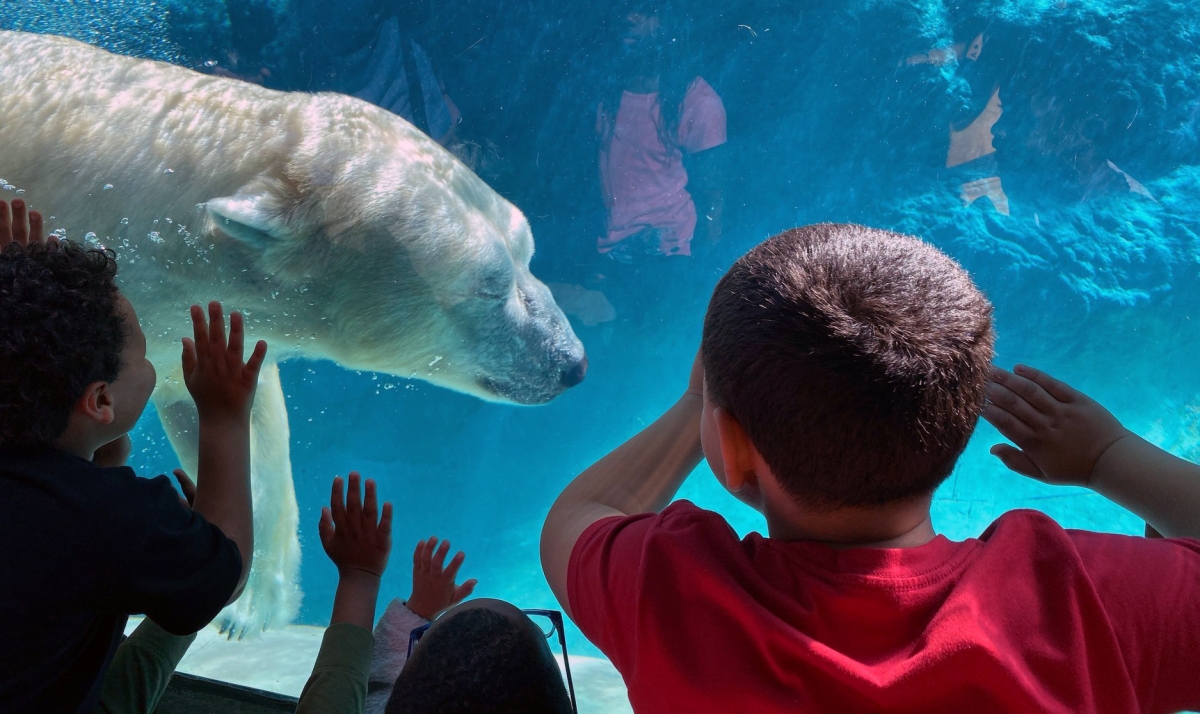 Academy students were captivated during their visit to the North Carolina Zoo. Photo courtesy of the NC Outdoor Heritage Advisory Council
November 14 was Science Night! Collaborating with the RCOE affords opportunities for both Appalachian's teacher education majors and Academy students to learn and have fun! As part of their directed elective course, Jeff Goodman and Dr. Rachel Wilson brought their students down the mountain to share cool experiments and science demonstrations with our mini-Mountaineers. We learned about tornadoes, roller coasters and lasers! We had a great time LEARNING TOGETHER!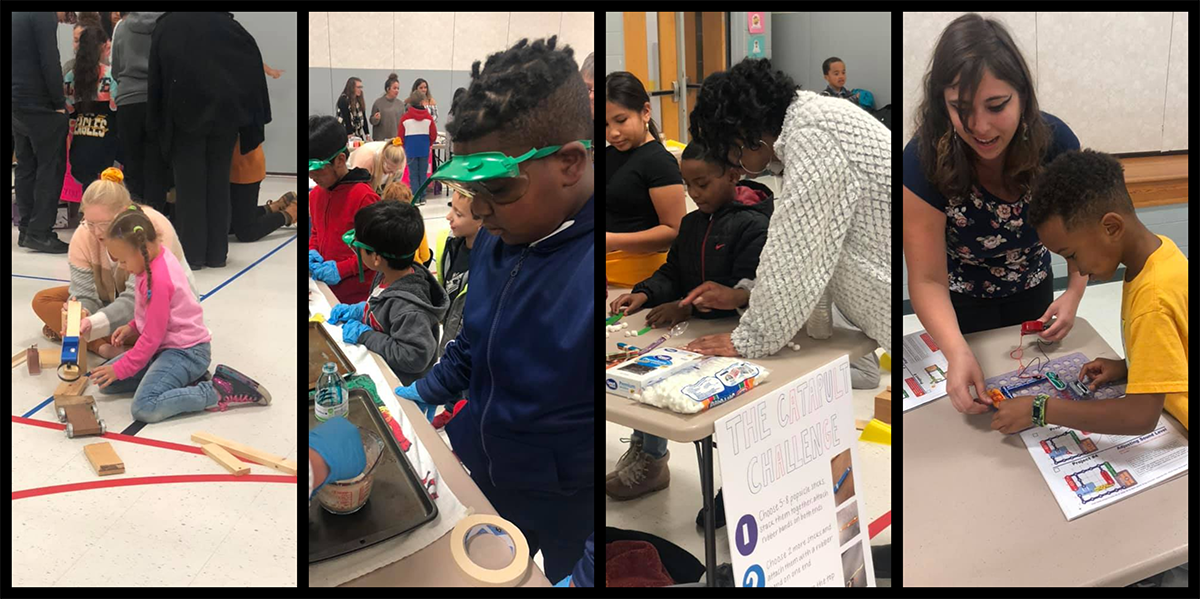 Academy and RCOE students learned about tornadoes, roller coasters and lasers at Science Night. Photos submitted
Exploring Identity and Building Community
During the fall, Academy art teacher, Megan Garner, explored the concept of "identity" with a one-of-a-kind art project. She gave each member of the Academy community - students, teachers and staff - a rock and asked them to paint it with symbols, colors, and patterns they felt represented them as an individual. Once dry, the rocks were displayed together in an outdoor garden located at the school's entrance. Read more: Identity Rock Art Project: Exploring Identity and Building Community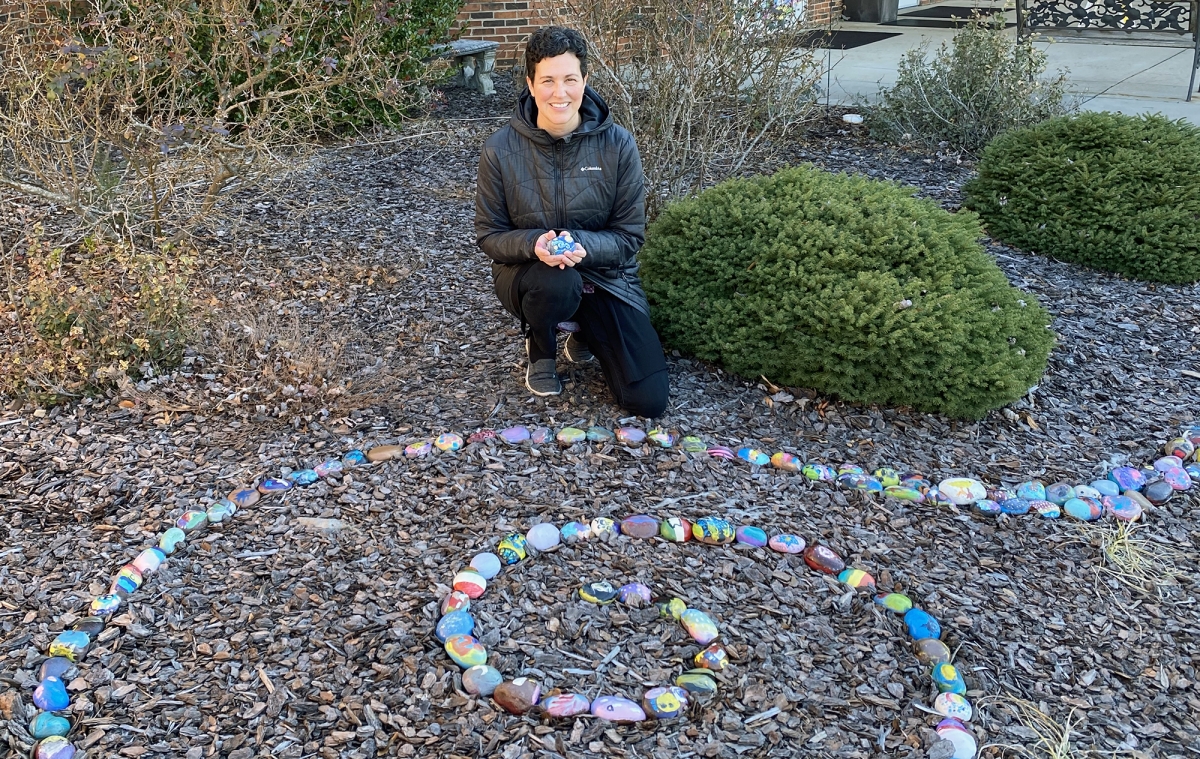 Garner poses by the rock garden created from the Academy's Identity Rock Art project. Photo by Amie Snow
Family Matters
Our incredible Parent Teacher Organization (PTO) has been busy. The PTO aims to support the Academy by raising money through fun, family-friendly events. They jumped right into the school year with several events this past semester. These events included:
Grandparents Breakfast (September 6) - Families learned about different ways to support the school while enjoying refreshments and each other's company. It was also an opportunity for Academy staff to continue to build relationships with students and family members.
Movie on the Blacktop (September 20) - Academy students, parents, and staff gathered together to watch "The Secret Life of Pets 2," setting up their own blankets, pillows, and lawn chairs in front of an inflatable projector screen. Concessions, including chips, freshly-popped popcorn, and hand-spun cotton candy, were available for purchase to enjoy during the film.
CiCi's Night and PTO Membership Drive (October 10) - During this event, the PTO increased both their membership and funds, which go to support our initiatives, such as our Trail Pass Incentives.
2-on-2 Family Basketball Tournament (November 16) - Families enjoyed playing ball and cheering one another on during the first tournament. This is another example of our mini-Mountaineers benefiting from our parent-school relationships.
Polar Express Night (December 13) - The second Family Movie Night was a festive occasion, featuring "The Polar Express", where guests enjoyed hot chocolate and cookies, as well as pizza packs and photos with Santa and Mrs. Claus. Kids were encouraged to wear school-appropriate pajamas!
And, Monthly Hat Days - a PTO event, where students and staff can wear a hat for the whole day for a one-dollar donation. This fun and creative fundraiser happens on the fourth Friday of every month.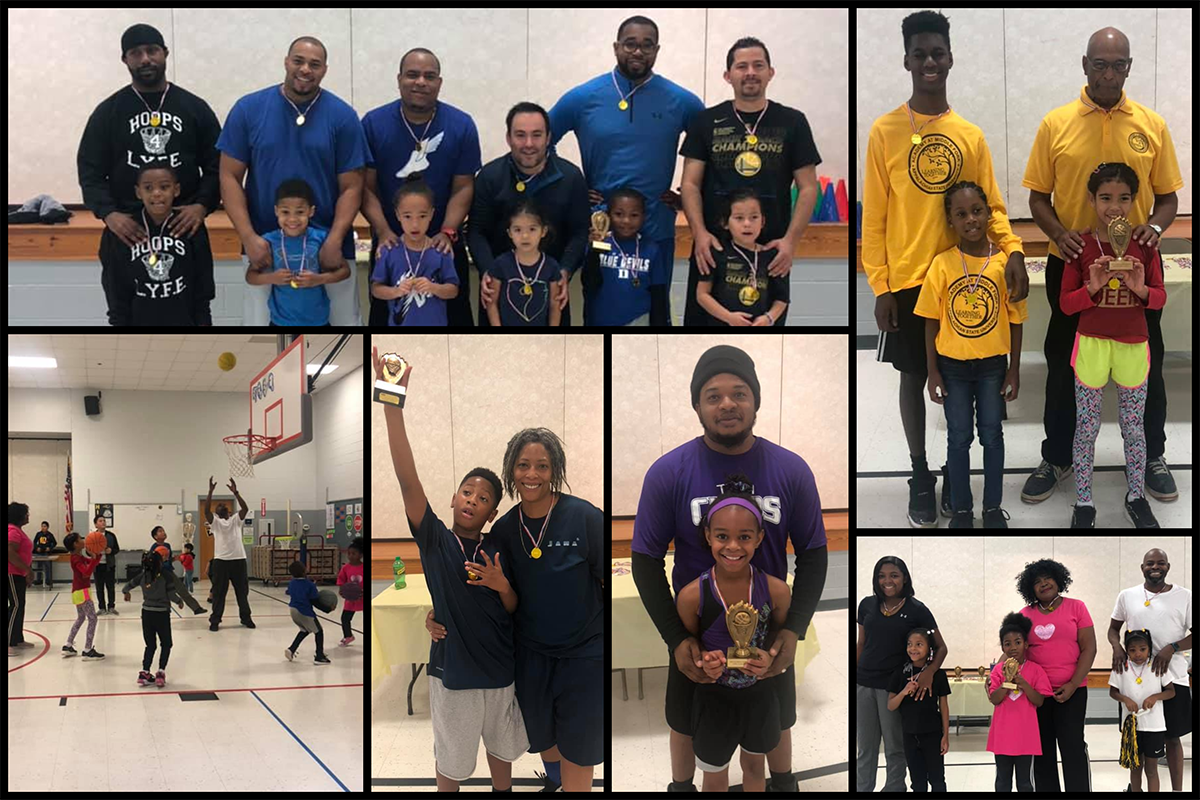 Our families played a little ball and enjoyed one another's company. Photos submitted
Don't Forget Dessert
Our holiday program, The Great Big Holiday Bakeoff was December 19. Led by music teacher, April Whitfield, Academy students performed this sweet musical with scrumptious songs and sweet scenes. It was the perfect ending to an amazing semester!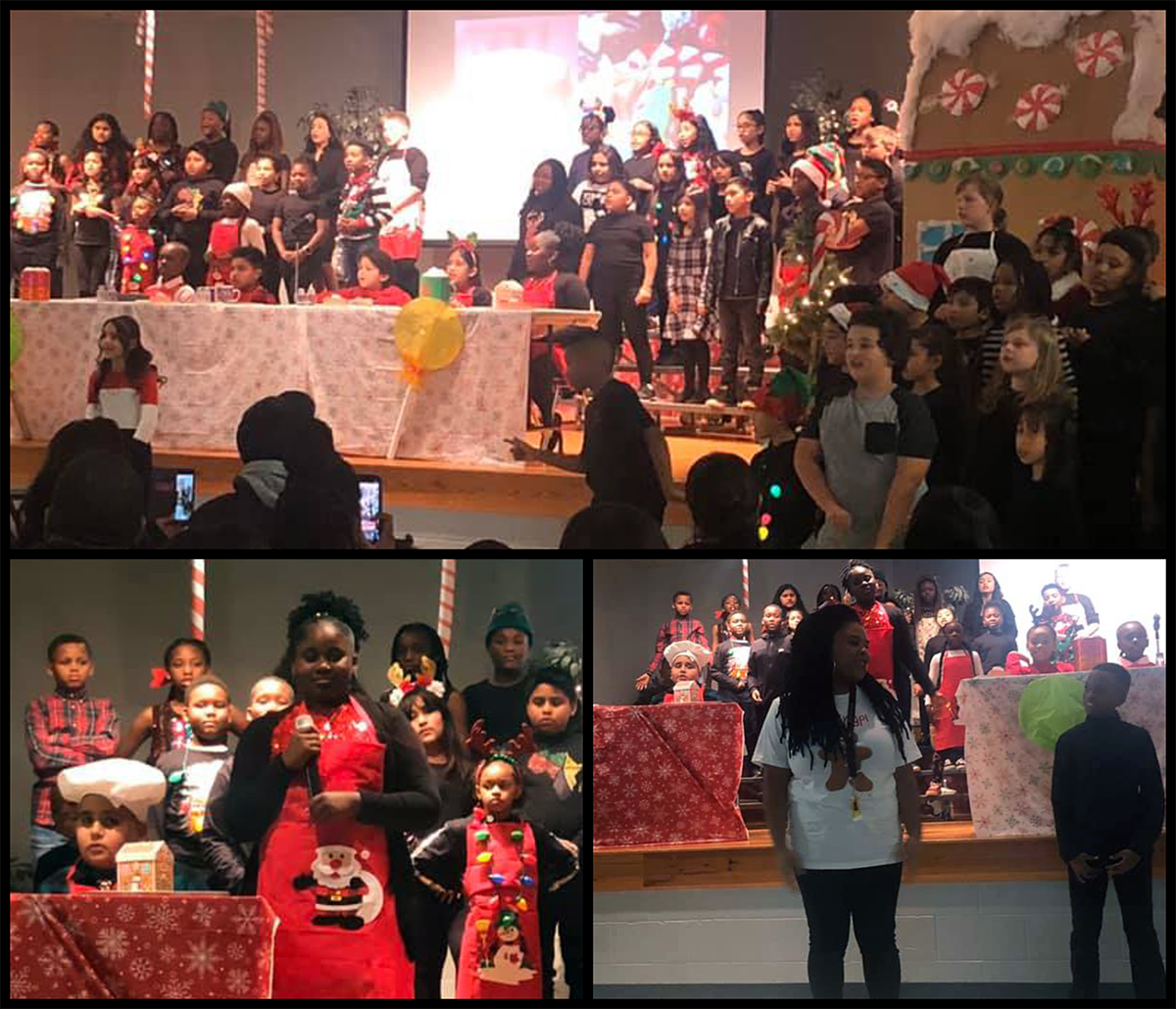 Our holiday program was a great success! Students did an amazing job singing and performing and the building was filled with cheer. Photos submitted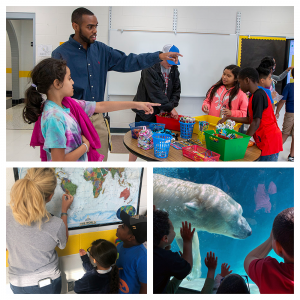 Tags: